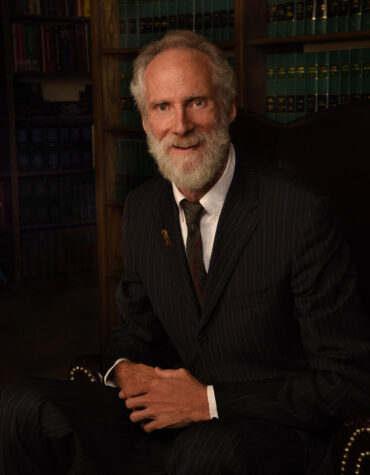 John M. Burman
(1955 – 2019)
John was born on Jan. 28, 1955, in Worland. He grew up in Laramie, graduating from Laramie High School in 1973. He graduated from the University of Wyoming in 1978 with a major in history, and then Magna Cum Laude from the University of Minnesota Law School in 1981.
John had a profound love of family and Wyoming. He married Marilyn Paules, the true love of his life, in 1979. Of Marilyn, also a Laramie native, he wrote, "There is an old saying that behind every successful man is a woman. I think we need to update that saying, because I don't believe that Marilyn has ever been behind me. Rather, she has always been in front of me, encouraging me to start projects I really did not want to do; cajoling me to finish projects of which I had tired; and dropping back once in a while to help me through a rough patch."
John Mortensen Burman was Emeritus Carl M. Williams Professor of Law & Ethics at the University of Wyoming, College of Law and was the Faculty Supervisor of the Legal Services Program from 1989 until May of 2013. Since joining the faculty of the College of Law in 1989, Professor Burman has taught and written about torts and legal ethics. His ethics columns appeared in the Wyoming Lawyer every two months from February 1996 through December 2014. In 2004, Professor Burman received the University of Wyoming's John P. Ellbogen Meritorious Classroom Teaching Award, and he was named as Outstanding Faculty Member by the UW College of Law graduating classes of 1993, 1995 (co-recipient), 1998, 2002, 2009 (co-recipient), 2011 and 2012. Professor Burman received the 2002 University of Wyoming Alumni Association and Student Alumni Association Outstanding Faculty Award. In 2013 Professor Burman also received the Thurman Arnold award for "outstanding contributions to the legal profession and to the College of Law". That same year, Professor Burman was honored by the WTLA (the Wyoming Trial Lawyers Association) for "extraordinary devotion and commitment to legal ethics and professional responsibility In Wyoming and across the nation." In 2013, he also received the Gerald R. Mason Professionalism Award from the Wyoming Bar, for "exemplary services to the members of the Wyoming State Bar, the University of Wyoming College of Law, and the people of the State of Wyoming."
Professor Burman was a Fulbright Teaching Fellow at Petrozavodsk State University in Karelia, Russia in 1998. He served as a Clinical Legal Education Specialist in Moscow, Russia, for the American Bar Association's Central and East European Legal Initiative in the summer of 2000. In the summer of 2002, he worked for the United Nations Development Program in Minsk, Belarus, as a clinical evaluator and consultant. Professor Burman also consulted and taught in Jordan in 2004, 2005 and 2006. In 2006, Professor Burman received the University of Wyoming's Outstanding Faculty Commitment to Internationalization Award (given by the university's International Board of Advisers). In 2011, Professor Burman was awarded the title of "Honorary Professor of Law" at the Saratov State Academy of Law (Russia) "for great contribution to the development of international relations…."
John began his legal career as a Special Assistant Attorney General for the State of Minnesota. Several years later, he entered private practice with the Laramie, Wyoming, law firm of Corthell and King. His practice focused on consulting with lawyers about grievances and malpractice, often serving as an expert witness in such cases. In addition to his consulting and expert witness work, Professor Burman was actively involved in pro bono representation. In 2002, he was the recipient of the Wyoming State Bar's Pro Bono Award for legal service work for indigent clients. Professor Burman also received the Gideon Award from the Wyoming Public Defender's Office in 2005 "For Outstanding Contributions To the Ideals of Equal Justice and 'Gideon's Promise' That Any Person Accused of a Crime Is Entitled to the Benefit of Counsel". In 2010, Professor Burman was awarded the President Award by the Wyoming State Bar, for his 'commitment to legal education, the legal community,… [and for] contributions to the Wyoming State Bar…"
The Legal Services Program that Professor Burman supervised is a live-client clinic in which third year students represent low-income persons in civil matters which will not generate a fee. Most cases involve: (1) domestic matters (usually disputes over child custody); (2) juvenile cases (abuse and neglect); (3) appeals from the denial of government benefits, such as Social Security Disability Benefits. Under supervision, students in the clinic perform all the roles of a lawyer, including making any necessary court appearances. In the summer of 2002, the Legal Services Program opened a Domestic Violence project in which students represent victims of domestic violence in civil matters. The Legal Services Program and the Domestic Violence Legal Assistance Project received the Wyoming State Bar's 2007 Pro Bono Award for legal service work for indigent clients.
After retiring early due to his health, John unexpectedly found the other love of his life: the State of Wyoming Judicial Nominating Commission. As a champion for gender equality, he relentlessly advocated for his belief that equality should be reflected in our judiciary, especially when female candidates of equal or higher qualification applied for judgeships. He was delighted to see three women serving on the Wyoming Supreme Court – a step, he thought, in the right direction.
You can find Professor Burman's publications, presentations, and curricula vitae here, a list of his Ethically Speaking articles here, his article concerning the Wyoming's New Confidentiality and Disclosure Rules here, his Summary of 2014 Changes to the Wyoming Rules of Professional Conduct here, and his Summary of 2014 Changes to the Wyoming Rules of Professional Conduct: A Correction here.