Corthell and King is a law firm with deep roots in Wyoming.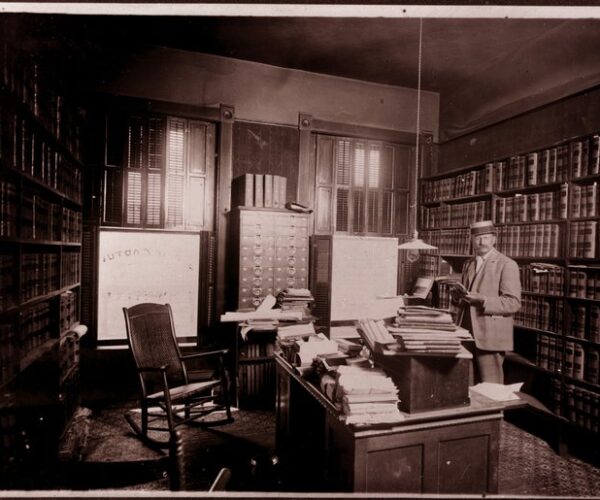 Nellis Corthell began the practice of law in 1883, and started our law firm in 1887.
On August 21, 1887, when Wyoming was still a territory, Nellis E. Corthell, a native New Yorker, opened an office for the practice of law in the Albany County Bank Building, the same address at which his namesake firm is still located.
Nellis Corthell had already been practicing in the same building since 1883, when he joined Col. Stephen Downey to "read the law," the most common form of legal education at the time. Both men continued to practice above the Albany County Bank, remaining on the second floor of the building as the banking institution on the main floor changed hands at various times.
At a time when the University of Wyoming did not have a law school (that was established in 1920), Nellis Corthell's law office served as the law library of the Albany County Bar, with lawyers from a multitude of local firms relying on the volumes stored there. Many of those books remain at the firm.
In 1914, Nellis Corthell's son, Morris, joined the firm to practice with his father. They were eventually joined by Morris Corthell's son-in-law, John King and the firm has operated under the name of "Corthell and King" ever since. The firm purchased the entire building in 1969 and 221 South 2nd in Laramie has since then served exclusively as a law office.
Throughout its history, attorneys working with Corthell and King have participated in the history and development of the State of Wyoming, ranging from Nellis Corthell's assistance in the prosecution of Tom Horn to the firm's representation of the State of Wyoming in landmark water litigation involving the Colorado River.  Corthell and King attorneys have served as state bar presidents, state legislators, and local justices of the peace. Current members of the firm include professors and adjunct professors at the University of Wyoming and leaders of community organizations.
Contact us today to set up your initial appointment.