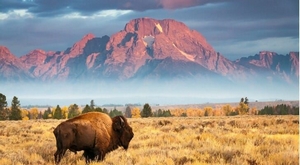 Wyoming's best kept secret is the Wyoming Domestic Asset Protection Trust, which shields your assets form both creditors and future estate taxes.
On March 9th, 12th and 16th of this year, the Dow Jones Industrial Average plunged with three of the worst record setting drops in U.S. history.  Why?  It was the perfect storm of growing fears about the coronavirus, the overseas oil wars, and the uncertainties of the 2020 Presidential election.  So we ask the question, are we headed into a recession or just a temporary setback?
What many do not know is Wyoming has some of the country's best asset protection tools available.  If structured properly, a Wyoming Domestic Asset Protection Trust (DAPT) will provide asset protection while:
You retain the power to veto distributions from the trust;
You retain the power to appoint and remove trustees and trust protectors;
You receive income from, or the right to income retained in, the trust;
You may receive up to five percent of the initial value of the trust or its value as determined according to the trust documents; and
You may receive or use the trust principal pursuant to a distribution or grant of use by a qualified trustee.
And if we've ever talked about a Wyoming DAPT, it's likely that I mentioned the "Cowboy Cocktail."  This delicious structure is where we create a Wyoming LLC to hold your assets, and the Wyoming DAPT is a member of the Wyoming LLC.  You then serve as the manager of the Wyoming LLC, which allows for even greater flexibility, control, and privacy.
While we'd like to peer into the crystal ball to know when the economy will fully recover and how to best plan, all we can do is look to and learn from our history.  In the not so distant past, Americans have faced the Great Depression of 1929, Stagflation of the 1970s, the Recession of 1981, and the Great Recession of 2008 – to name just a few.  With that, we know that the end of economic turmoil will come, while realizing that unique opportunities exist for a short period during these difficult times.
Whether you have closely held companies, farms, ranches, depressed stock portfolios, or similar assets, a DAP) may be a useful tool to help you preserve your wealth, not just for you, but also for your future generations.  Since Wyoming trust laws are flexible, a Wyoming DAPT allows you to protect your assets without losing control, naming third party beneficiaries, or moving assets to an offshore trustee.  Furthermore, the growth of these assets will not be subject to estate tax.  Wyoming is truly one of the best kept secrets when utilizing LLCs and Trusts to protect your assets.
It is important to ensure that your asset protection strategies align with your goals, while simultaneously providing the security and access you require.  If you would like more information as to how a Wyoming DAPT can protect your assets, please do not hesitate to reach out.